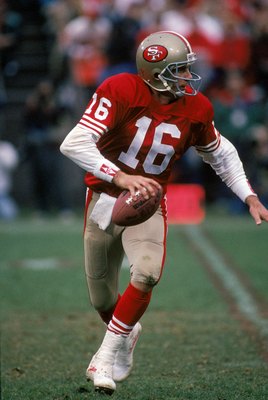 As we approach the Super Bowl, Joe Montana's name has come up from time-to-time, and why shouldn't it? After all, he is responsible for leading the 49ers to four Super Bowl victors. Now, the 49ers are back in the NFC Championship and many people have picked them to take on the Patriots in the Super Bowl. If that happens, Tom Brady, who grew up a 49ers fan will join Montana and Terry Bradshaw as the only three quarterbacks to win four Super Bowls.
Montana kind of disappeared after his football career. His successor; Steve Young, as well as other quarterbacks such as Troy Aikman, Dan Marino, Boomer Esiason, Phil Simms and others have joined the media. Then there's John Elway who's now the Vice President of the Denver Broncos. These guys are still very much part of the game, but not Montana, who many argue is the best of all time. That's why he played the game; to be the best.
"There's only one reason for doing anything that you set out to do. If you don't want to be the best, then there's no reason (for) going out and trying to accomplish anything."
Montana is an interesting topic of discussion when you think about it. The Super Bowl record is about all that he owns but is pretty much all that matters, at least the most important one. It's what every quarterback sets out to achieve every year. He doesn't hold any records for a single regular-season category but he obviously knew how to win.
San Francisco really did strike gold when they drafted Montana out of Notre Dame in the third round of the 1979 draft. Before his arrival, the 49ers were nothing. Head coach Bill Walsh was able to create the West Coast Offense with Montana at the helm, and today, that offense is one of the most widely used.
In fact, Walsh once said, "I would rather have Joe Montana as my quarterback than anyone else who has ever played the game."
The following are just a few of his accomplishments:
• Named MVP for the 1989 and 1990 regular seasons
• Named MVP for Super Bowls XVI, XIX and XXIV
• Led the NFL in passes twice.
• Threw for 273 touchdowns while rushing for 20 touchdowns
• Name to eight Pro Bowls.
Perhaps we forget how great Montana was and from what I hear, he had a good sense of humor. I love the story about how he pointed out John Candy in the audience while in a huddle at the Super Bowl.
If I could talk to Montana, I'd ask him why that is. Maybe being that close to the game would make him miss it more. He was once quoted for saying, "In sports, you play from the time you're 8-years old, and then you're done forever."
That's a shame for those who watch and play the game alike but just because he's done playing and has little to do with the NFL doesn't mean he won't be remembered. In fact, as Brady attempts to go for his fourth Super Bowl victory, let's not forget what good company he's joining.