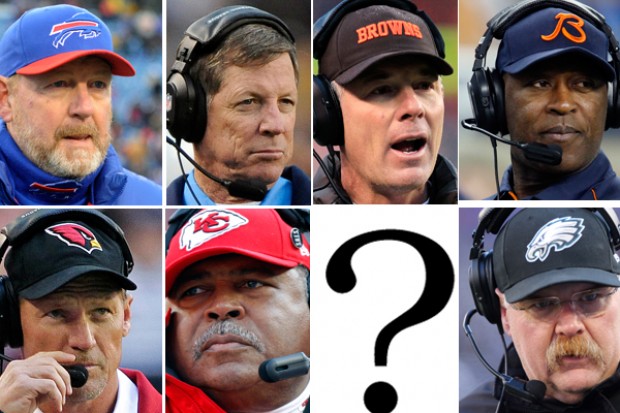 We knew a lot of NFL head coaches would be gone after the end of the season but who would have expected seven head coaches to be fired the day after Week 17?
Lovie Smith, Andy Reid, Norv Turner, Chan Gailey, Romeo Crennel, Ken Whisenhunt and Pat Shurmur will all be looking for a new job in 2013.
I think we all saw the writing on the wall for Reid, Turner and Smith. I wasn't surprised by the Bills firing Gailey but wouldn't have been surprised if they decided to give him another year. The same applies to Whisenunt in Arizona and Shurmur in Cleveland.
So if you had to pick from one of these seven free-agent coaches, who would it be? Norv Turner has shown he's a great offensive coordinator but not a great head coach. I'm surprised he lasted as long as he did in San Diego. It's actually kind of weird that Gailey signed with the Bills. After being fired by Jerry Jones, he took several coordinator jobs and it kind of seemed like Buffalo was a chance to revive his head coaching career, or make a positive one.
The Chiefs tied a franchise-worst record of 2-14 which is why the firing of Crennel came as no surprise. I personally don't see any reason to think he's got what it takes to be a head coach in the NFL. Ken Whisenhunt built a decent resume in Arizona by bringing the Cardinals to the Super Bowl. Let's not forget what an accomplishment that really is. Who knows, maybe Kurt Warner deserves all the credit. Regardless, Whisenhunt was playing Duck, Duck Quarterback this year and when you make changes at the position as often as he did, you can't expect to have a long tenure in one place.
Shurmur seems like a good fit in Cleveland because you forget all about him and the Browns. The Browns are overshadowed by three great teams in the AFC North and Shurmur has next-to-nothing to work with but perhaps he's at least partly to blame for that.
Smith seems solid to me but I understand why the Bears let him go. The NFL is a "What have you done for me lately?" league and since going to the Super Bowl against the Colts in 2007, Smith hasn't been too productive with the Bears. If you've been around me at all or even listened to our podcast, you know my take on Reid: he's overrated and terrible at managing the clock. You might be thinking he can't be too overrated because he got fired, but I've been saying it for years, even when people were saying otherwise. I personally would stay away if I were an NFL owner or GM, but then again, there's probably nobody who cares about my take.
Names like Chip Kelly of Oregon and Jon Gruden ESPN Monday Night Football have started surfacing amongst media talk.
The firings raise several questions. Who's going to replace the fired coaches? Where will each of them go? Who would you take if you could? Who's next to go?