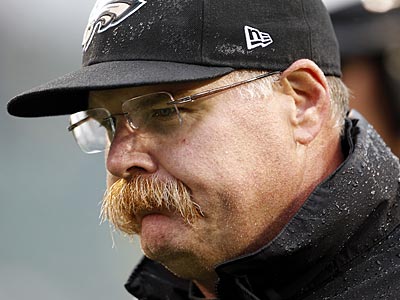 The Cowboys' win over the Eagles may have bought a little more time for head coach Jason Garrett. At the very least, it calmed talks down a little bit. That's partly because Eagles' coach Andy Reid's seat is getting hotter. Chances are he'll be out of Philly next year. A loss at home to the Cowboys for a coach whose future was already in question obviously wasn't what Reid needed, but it just got worse. The Eagles should've been even more aggressive in that game. They should have seen it as a golden opportunity, but they were unable to take advantage.
We've been saying it for year; Reid is highly overrated as a head coach. His clock management is terrible and despite having solid running backs, he hasn't been able to establish the ground attack. How he has lasted in Philly this long is beyond me. Reid might finish off the season, but more than likely, he's gone as soon as the offseason officially begins for the Eagles.
Yes, those same things can be said of Garrett. He's got good backs. He's mismanaged the clock a handful of times, but if he's able to make the postseason or at least come close, Jerry Jones will keep him around for at least one more year. As for now, Garrett is safe. All he has to do is not screw up too bad.
Former Cowboys offensive coordinator (during the glory days) Norv Turner will likely be out as well. He's a great coordinator but not great head coach. He's got talent in San Diego but chances are A.J. Smith is tired of losing and will replace Turner.
The New York Jets have had a terrible season which comes as a surprise to some but who knows why? Mark Sanchez just isn't NFL material and I think that's obvious to everybody except head coach Rex Ryan. Ryan's mouth is bigger than the Big Apple and New York won't have room for so much talk and so little winning.
These are just four examples of head coaches who are on the hot seat as one or two of them may stay but at least two of them will either be out of a job or will be coaching elsewhere. Also, don't be surprised if there are a few more names added to the mix later.
Romeo Crennel may have saved his job by scoring first against the Pittsburgh Steelers Monday Night in Week 10. That was the first time the Chiefs held a lead all season. Then again, don't surprised to see him go either.