My fellow Dallas Cowboys fans:
Times are tough right now and they've been tough for over a decade now but the die-hard fans will stay the course.
I've been saddened to hear people who call themselves fans of America's team say they are losing interest and considering jumping ship and changing allegiances. On a radio talk show based in Dallas, I heard talk about a group of "fans" who switched allegiance to the Kansas City Chiefs. How one can perform such a cowardly act is beyond me, but if fans are seriously considering jumping ship that easy, I say go, and never come back. If we see the 'Boys hoisting the Lomardi Trophy, you better not be posing as a Cowboys fan again.
Former Texas Longhorns football coach Darrell Royal once said, "Football doesn't build character. It eliminates the weak ones."
That quote is so true, even in fandom. If you're not strong enough to stick with your team because it's not winning, it's obvious who the weak one is.
We've all heard that character is built through adversity and again, that's also true as a fan. It says so much more for your fandom if you stick with your team through tough times. It would be easy to call yourself a fan of the 90's Cowboys and leave when Troy, Michael and Emmitt left but that's not what a fan does. I always say it and I'll say it again, you stick with it through thick and thin, through injuries and through health through wins and losses.
Not to mention, let's say we win the Super Bowl in five years from right now and every year up until then is terrible. How much sweeter and more rewarding will it be to see them finally bring home another Super Bowl win? To leave would be a shame.
Yes it's frustrating. Yes there are things I wish Jerry Jones and others would do differently but we're no better if we change our minds because we can't take the pain. That's a big part of sports and an even bigger part of being a fan.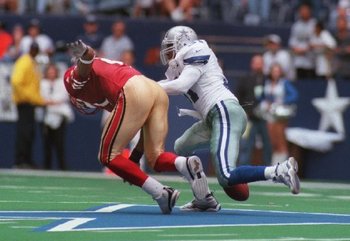 The blue star on the silver helmet may not mean anything to you, but it means a ton to me and other die-hard fans. I only wish I could defend it like Emmitt and George Teague did against T.O and I will continue stand by it honor its history and remember those who made it what it is today. We shall not forget Coach Landry and Tex Schramm.
I urge you fans to make a decision now. If there's any question as to whether or not you have enough loyalty and enough commitment, then go. We die-hards don't want fair-weather fans to represent the star.