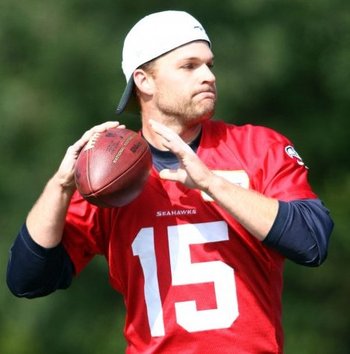 Man, I feel bad for Tyler's own Matt Flynn. Whether or not he's capable of reaching greatness, we may never know.
If the Seahawks don't undo what they did, their fans will constantly be asking, "What if the Seahawks never signed Terrell Owens. In fact, a few years from now, it could be a question asked by Dave Dameshek's "N 'if' L".
In fact, it's way too predictable. It's way more predictable than a Tom Hanks and Meg Ryan movie.
T.O. comes in and says the right things at the beginning, buddies up with the quarterback (Flynn in this case), whispers sweet nothing into it his ear and gets his quarterback to throw a few passes his way to keep him happy, at least for a while.
It's week 2, and TO is in a post- game press conference talking about how emotional it's going to be to face his former team, the Dallas Cowboys. He blames his two dropped passes on Cowboys' rookie cornerback Morris Claiborne saying the young corner held him.
He's then asked about the star, and if we would've run to it and stand on it if he had've scored a touchdown. His answer? You guys are trying to make a story where there is none. The problem is, the media in this case is simply asking about his tweet during pregame.
Questions about Tony Romo are asked and he answers saying, "I went to battle for him. I shed tears on his behalf, and he kicked me to the side."
The next question is about next week's opponent, the Green Bay Packers and whether or not Flynn can beat his former team.
"That's not a fair question and it's not fair that he gets blamed for this loss or for next week if we do lose," Owens says in tears. "You criticize him unfairly. That's my teammate. That's my quarterback."
The media laughs thinking he's making an obvious joke. They think that perhaps the disgruntled receiver might actually be able to make fun of himself, but no, he storms off into the locker room.
The Packers beat Seattle 27-10 as Owens played "hurt" and says put his "life on the line for the team."
Because of his injuries and lack of productivity, Flynn finds new targets in Sidney Rice, Braylon Edwards and tight end Kellen Winslow as the Seahawks win a nail biter over the Rams in overtime.
Having not been asked to speak in the press conference after the game, Owens holds one of his own while working out in his driveway where he throws Flynn under the bus.
"We was on the road, and he and Kel (Winslow) and the receivers were drawing up plays for each other. He didn't even look my way and I was wide open," he says referring to a play in the fourth quarter late in the St. Louis game where Flynn connected with Winslow for a play that set up the tying field goal.
Week Five against Carolina saw Owens make four catches for 51 yards, and the talk goes away for a while. The Patriots, Niners and Lions all defeat Seattle.
Owens drops a pass over the middle then is seeing chewing out his quarterback and pulls the "I've been playing this game longer than you have," card and starts calling for rookie quarterback Russell Wilson.
He goes down again in the Minnesota game late in the fourth quarter and says his quarterback intentionally threw a pass where he knew Owens would get hurt.
The Seahawks should have known better but for whoever knows why, they keep him on the squad, and the locker room continues to divide.
He misses the rest of the season until Week 17 where the Seahawks have a chance for the division with a win over St. Louis and 49ers loss.
Owens doesn't make a single catch. In fact, Flynn doesn't even look is way. Owens says if Flynn had of a thrown to
him, Seattle would be in the playoffs.
Truth is, Flynn was looking for Owens, but the receiver ran the wrong route and the pass was picked off.
Oh, and about a year later, TO releases a book telling his side of the story of what went wrong in Seattle and tries to coin the term, "Can't win with Flynn" which was released right after his new children's (I think) book.
Guess you can say the Seahawks and their fans were sleepless in Seattle, but man, they should've seen it coming. It was pretty predictable.